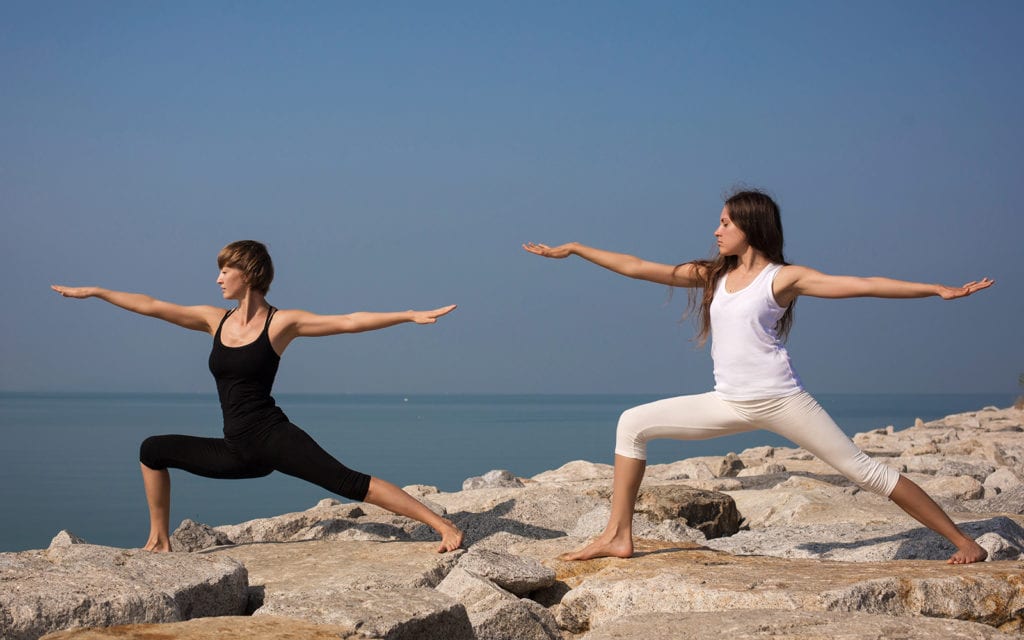 What is Iyengar Yoga?
This is a popular form of Yoga which focuses on the asanas (posture) and pranayama (breath control). But it is more than simply gymnastics and deep breathing.
Although it encompasses all eight disciplines of yoga (ie yama, nivama, asana, pranayama, pratyahara, dharana, dhvana and Samadhi) it differentiates itself from other forms of the practice in three ways – technique, sequence and timing.
Iyengar Yoga, for instance, involves looking particularly at correct body alignment to ensure that the student suffers no pain or injury when practicing poses.  This is achieved by means of a variety of props such as wooden blocks, blankets, belts, cushions, chairs and sand bags to provide support. These props also allow less able students, such as those who are physically unfit or elderly, to enjoy the benefits and intensity the postures can bring.
Standing poses are a particular feature of Iyengar Yoga and are seen as a basic pose for many more complicated versions at a later stage.
The practice of Iyengar Yoga, because of its emphasis on anatomical alignment, is said to reduce many aches and pains and improve posture. It emphasises strength, mobility and stability and aims to unite the body, mind and spirit for health and well-being.
Another differentiating aspect of Iyengar Yoga is its emphasis on correct sequencing of postures. Teachers believe that by varying particular postures after one another the mental and emotional effects can be enhanced.
Many of the postures or breathing exercises in Iyengar Yoga are held for a much longer time than in other forms of yoga to allow the body to feel the effects more.
Once the student has mastered Asanas they can go on to look at Pranayama (or breathing). Mastery of breathing is said to lead to a number of physical benefits such as improving circulation, bettering the digestive and respiratory systems and  a sense of increased energy together with the enjoyment of a state of tranquillity. Because of this, the breathing is Iyengar Yoga can be regarded as a precursor to the art of meditation.
Iyengar Yoga is said to be reasonably demanding and challenging but not tough. The teacher will encourage the individual to push themselves but not to the extent that the practice becomes unbearable or no longer pleasurable.
What to expect
For class wear loose-fitting clothing and be prepared to practice in your bare feet. Don't eat for at least two hours beforehand; dinner should be at least four hours before class.
You can expect an Iyengar Yoga class to begin with a period of quiet then some basic postures in order to warm up the body and focus the mind. Standing postures are usually some of the first to be mastered by new students.
You can expect to learn a number of postures and to learn those postures with absolute precision. This will involve the use of a prop or two in order to achieve 100 per cent alignment.
Meanwhile, once achieved, you will be expected to be able to hold that posture for a lengthy period of time – certainly longer than in most other forms of Yoga.
While practising the postures don't be surprised to be regularly corrected by the teacher. That's because, as we've mentioned, the practice is very precise. An Iyengar Yoga teacher will actively correct errors rather than just encourage you to follow her (or his) poses. This will be done on a verbal basis and involve the teaching walking round the class scrutinising postures.
Later, once the postures are mastered you can look forward to being able to concentrate on breathing (an actual focused breathing class could actually be around two years after you first begin learning postures, such is the precision for thee). Having said that, basic pranayamas are often taught towards the end of the class during the relaxation period.
Your class will finish with some re-energising postures and you should leave the class feeling that you have more energy than when you arrived.
If you aren't a newcomer to Iyengar Yoga but have been to a class before and mastered some basic poses then it will be possible for you to fit right in to a new class without any instruction. This is because the sequencing of postures in Iyengar Yoga is similar, wherever in the world your class is taking place.
Effects and benefits
Iyengar Yoga, when practiced regularly, can bring a feeling of physical fitness and wellbeing – both psychologically and spiritually.
Its focus on physical alignment can also mean a physical improvement for students who have postural or structural difficulties such as back pain.
Because of its attention to detail, Iyengar Yoga encourages concentration which in turn is a good antidote to anxiety and depression/stress-related conditions. The practice can also lead to a better inner knowledge which in turn can boost self-esteem and confidence.
Due to the time taken to complete and hold postures, the practice helps to lengthen and strengthen muscles both in the arms and legs. Meanwhile the use of props means being able to stretch further so that in time the student can enjoy greater flexibility.
Other benefits of regular Iyengar Yoga practice include:
Increased agility and coordination
Improved tone and firmness of muscles
Improved posture
Improved circulation
Regulated weight control
Increased stamina and endurance
Enhanced performance in sport and other physical activities
Improved digestion
In addition, BKS Iyengar looked to apply his practice to various illnesses and disorders. These included insomnia, depression, high blood pressure, immunodeficiency and menopause and as such there are specific Iyengar programmes available for these conditions from his institute in India.
Fascinating facts about Iyengar Yoga
There are 200 classical yoga Asanas and 14 different types of Pranayamas (with variations)
Bellur Krishnamachar Sundararaja (BKS) Iyengar developed this form of yoga
BKS Iyengar was born on December 14, 1918. During his childhood he suffered from malaria, typhoid and tuberculosis in his childhood
Iyengar began teaching yoga in 1936 at the age of 18 and continues to teach at the Ramamani Iyengar Memorial Yoga Institute in Pune, India alongside his son Prashant and daughter Geeta
Ramamani was the name of BKS Iyengar's wife. She died in 1973
BKS Iyengar was born in a very poor Indian village in Karnataka called Bellur. It only received a fresh water supply in 2004
Iyengar has written a number of classic yoga texts. His most important being Light on Yoga in 1966 looking at poses and breathing techniques
Yoga is one of the six systems of Indian philosophy.
In Sanskrit the word "yoga" originates from yuj which means Union
Iyengar is the yoga of choice for those who are ill, elderly or overweight
Iyengar yoga is especially popular amongst advanced yoga students who like to use it for their alignment in particular
Iyengar yoga is considered to be amongst the best stress relieving techniques available
A bust of Iyengar's Guruji's sits in the hall of the RIMYI. It was chiseled specially by the Queen Mother of Belgium who, at the age of 81, was delighted to have achieved her life's dream of performing Sirsasana
Iyengar Yoga is based in the Yoga Sutrasof Patanjali, an Indian sage who lived about 1700 years ago
Iyengar follows the teaching of Patanjali in that he considers raja, jnana, bhakti and hatha to be constituent parts of the whole practise of yoga, not to be practised individually
Iyengar Yoga is also known as Kriya Yoga or Patanjali Yoga
Iyengar Yoga, like other forms of Yoga, is based on the Hindu tradition but teachers do not promote a particular religious point of view. People from all religions practice Iyengar Yoga
There are over 2000 qualified Iyengar yoga teachers in over 40 countries. Meanwhile, more than 180 Iyengar yoga associations exist worldwide
Studies have shown Iyengar Yoga can be a successful complementary treatment to unipolar depression
Trainee Iyengar Yoga teachers are expected to practice at least two hours every day. BKS Iyengar still practices Asana for four hours and Pranayama for one hour every day
Professional Organisations
Iyengar Yoga Association (UK)
A network of information concerning Iyengar Yoga and other Yoga events throughout the UK. Organises an annual convention. Maintains standards of teaching and provides certification and assessments for those looking to teach the discipline. Provides insurance for members.
Ramamani Iyengar Memorial Yoga Institute (RIMYI)
The institute was established in 1975. It attracts students of Iyengar Yoga from throughout the world. The three floors in the building represent the body, mind and soul. It has eight columns which represent the eight limbs of ashtanga yoga. Its library is filled with 8000 books covering a variety of subjects from philosophy to Ayurveda and modern medicine.