How to make a detoxifying body oil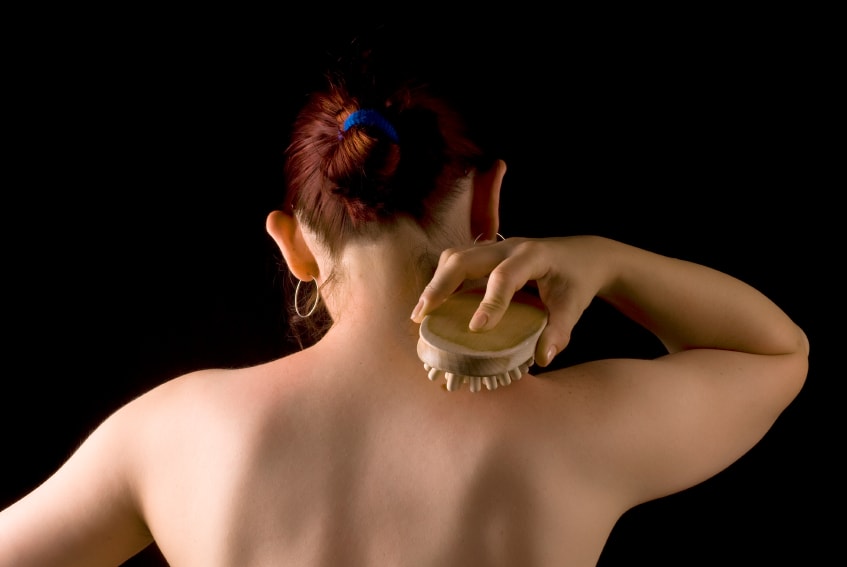 Bikini season is on the way. A daily routine of dry body brushing before bathing is recommended to help firm up wobbly bits. Supercharge your body brush with this all-natural detox essential oil blend.
Body brushing gets the blood pumping and can help to reduce the appearance of cellulite, firming up the skin around the thighs and hips. Adding body brushing to your daily routine has many benefits – it stimulates blood and lymph flow, eliminates toxins from the body, stimulates sebum production, removes dead skin cells and encourages cell regeneration –leaving you with smooth, glowing skin.
Body brushing should be carried out on dry skin before a shower or bath for around five minutes. It is best to use a body brush with natural bristles and a handle. Start at your feet and work upwards, using small circular motions. Always brush in the direction of the heart and be gentle on areas where skin is more sensitive.
This detox body oil contains stimulating essential oils and is great for boosting circulation when used on dry skin with a body brush, concentrating on the hips and thighs. Mix 100ml of grapeseed or safflower oil with 4 drops each of grapefruit, rosemary, pine, juniper, petitgrain and peppermint essential oils. Keep in a dark glass bottle away from sunlight.
This invigorating blend is best used in the morning to awaken the senses and kick-start the day as all of the essential oils contained have energising properties. Grapefruit and pine essential oils both boost the metabolism – grapefruit oil is a natural mood-booster and recommended for dull skin and toxin build up, while dermatologists recommend pine oil for a variety of skin conditions. Pine oil is an antioxidant, counteracting the impact of free radicals which can attack skin cells, leading to premature aging, sagging and wrinkles.
Juniper essential oil improves blood circulation and helps in the removal of toxins – being an astringent, juniper oil tightens muscles and leaves a feeling of firmness. Petitgrain essential oil is good for maintaining the moisture balance of the skin and is used to treat both acne and dryness. Petitgrain oil is also a natural deodorant, restricting the growth of bacteria in parts of the body prone to body odour. The cooling menthol in peppermint oil will help to ease aches and pains, great if you've been hitting the gym and have sore muscles.