Golden leaves: 5 top spots for Nordic walking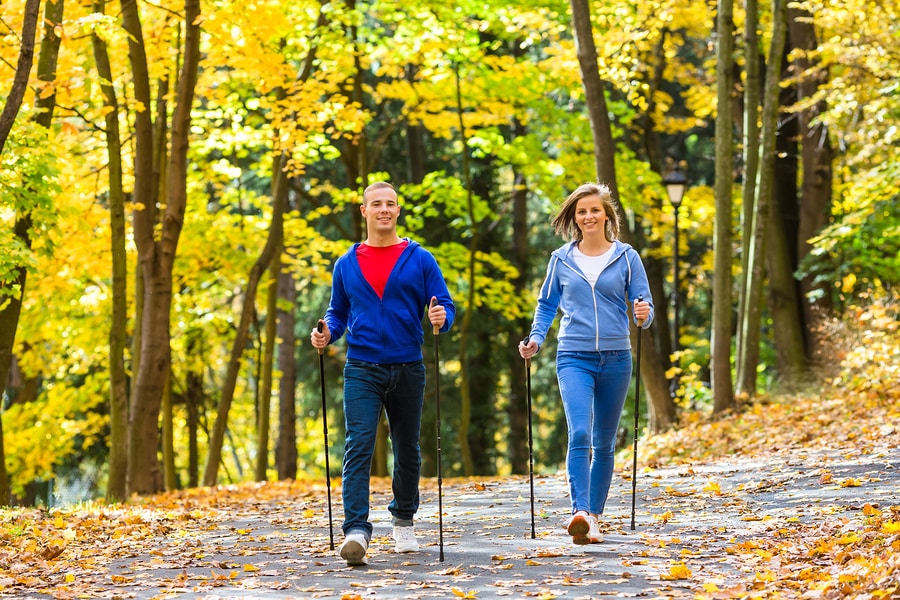 Embrace the great outdoors this autumn with Nordic walking, a form of exercise suitable for people of all ages and fitness levels. For those not yet acquainted, Nordic walking uses specialised walking poles to propel the body forward, making the exercise ideal for those with neck, shoulder and back problems. The walking poles take the weight off the knees, meaning the exercise is gentle on the joints and good for those with joint concerns or carrying extra bodyweight.
By using Nordic walking poles correctly, a simple walk is transformed into a full body workout, not only toning the legs but also the upper body. Nordic walking burns up to 46% more calories than ordinary walking and has a multitude of health benefits, including improved posture and co-ordination. Being a cardiovascular workout, it is great for weight loss and regular Nordic walking sessions will reduce the risk of heart disease, type 2 diabetes, asthma, stroke and some cancers.
But what are the psychological health benefits of Nordic walking? Nordic walking has been proven to boost mood and the mental health benefits are huge. Spending time exercising outdoors is a great way to soak up natural daylight, which we need to stay happy and healthy throughout the colder months. Much more inspiring than suffocating in the sweaty basement of a gym. Nordic walking group sessions can also be a chatty affair and an informal way to meet people.
Embracing Mother Nature and spending time outside among the trees and the birds is nourishing for the soul. And there is no time more beautiful to embrace the great outdoors than in autumn. If you are a beginner, then you need to find a qualified instructor when starting out, as using the proper technique is essential to reaping the benefits. But once you've got the hang of it you're free to roam! Here are five breath-taking spots to get lost in.
The Dorset coast
The Corfe Castle to Swanage walk in particular deserves a mention. Take in the views of Poole Harbour and the Isle of Purbeck during this beautiful walk.
Hampstead Heath or Richmond Park for the Londoners
There are many regular Nordic walking groups in London which make the most of these two city wildernesses which are both breath-taking when decked out in autumnal golden hues.
Grizedale Forest, Lake District
Situated in-between Coniston Water and Windermere, Grizedale Forest is a sight for sore eyes at any time of year, but even more so when the leaves are falling. To spice things up a bit, there are around 6O unique sculptures lurking amongst the trees.
Faskally Wood, Perthshire
A true Scottish beauty, Faskally Wood is situated within Tay Forest Park on the banks of Loch Dunmore and used to be a training school for foresters during the 1950s. Faskally Wood puts on an impressive light show and transforms into The Enchanted Forest between late October and early November.
Westonbirt Arboretum, Gloucestershire
Containing over an impressive 18,000 trees and shrubs the Westonbirt Arboretum is no less than a grade 1 listed historic landscape; get ready for some stunning scenery.