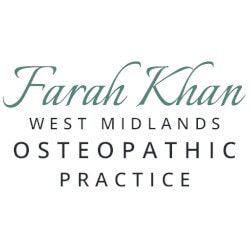 23 Alder Ln, Balsall Common, Coventry CV7 7DZ, UK.
About Farah Khan Osteopath
Are you fed up with living in pain? Looking for specialist treatment for your pain? Osteopathy is a drug-free, non-invasive manual therapy that aims to improve health across all body systems by manipulating and strengthening the musculoskeletal framework. Farah Khan Osteopath adopts a thorough, caring and holistic approach to health and wellbeing, and with this in mind we treat the whole person and not just the area where pain and restriction are felt. Every individual is assessed from a mechanical, functional and postural standpoint. When appropriate, physical treatment is applied to suit the needs of each individual patient through a variety of techniques. We are members of the General Osteopathic Council and the British Osteopathic Association. So if you are seeking an effective treatment for chronic pain without drugs or surgery, contact us for a confidential discussion.