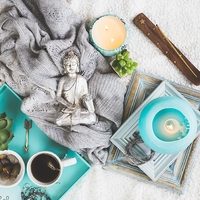 9A

Station Road

,

Whitley Bay

,

Tyne and Wear

NE26 2QY

.
About Elemental Changes
Welcome to Elemental Changes, the spiritual home of Relaxation and Inner Calm in the North East. Life can be overwhelming these days, especially if you're managing the symptoms of stress and anxiety along with juggling the demands of work and family life. Many people today feel like they are standing on shifting sands, balancing so many roles and responsibilities, and are living in fear that things will come crashing down around them if they can't keep up with the demands being placed on them. The good news is that Inner Calm can help you to find the space and time to relax, be kind to yourself and easily create practical solutions to change your life and overcome the issues that are troubling you the most – whatever they are. Practical and spiritual guidance is offered alongside deep holistic healing to restore your inner peace, resilience and well-being. What is Inner Calm? Inner Calm at Elemental Changes is a unique blend of therapeutic and healing modalities as well as intuitive mentoring that supports women at a crossroads in life to move from being stuck in a place of overwhelm, to feeling confident, in control and clear about what you want and what you need to do to get it. By giving you the tools you need to decide which path to take you can forgive and release the past, live joyfully in the present and make healthy decisions that will create a bright future for you. Whether you want to work on your career, your confidence, your health your relationships or your direction in life, when you achieve Inner Calm you will notice increased: Confidence in yourself, clarity around your life choices and direction and creative approaches to problem solving; Acceptance of yourself and those around you. Know who you are and feel comfortable with the choices that have brought you to where you are today. Feel able to speak your truth and shine your light; Liberation from fear based living and decision making. Learn to experience deep, unconditional love for yourself and the universe. We are all one and you deserve freedom from the limiting beliefs that get in the way of you living the life you dream of; Manifestation of your goals and dreams. Bring magic into your life by learning the secrets of the Law of Attraction and how to mindfully make your dreams a reality. Why work with Elaine? With Elaine as your Inner Calm coach you will quickly:
Make real, lasting and positive choices that will change your life for good
Get back in the driving seat and back in control of your life
Simplify the issues that have been holding you back
Feel more confident and comfortable in yourself
Focus on what's important to you
See the world through fresh eyes and get new perspectives on your life
Get new insight and clarity
Create a realistic and achievable plan to manifest what you want
Specialising in work-life balance, overcoming overwhelm, changes of direction and finding you Inner Calm, Elaine helps her clients to feel confident, in control, clear about what they want and how to get there and ultimately a lot more comfortable in themselves. How Can I FInd My Inner Calm? Reiki, Tarot, Meditation and Hypnotherapeutic NLP coaching plus the cultivation of a regular holistic self-care routine and looking after your inner health all enable you to be better equipped to deal with the ups and downs of everyday life. Every session at Elemental Changes is designed to meet your specific needs. From the moment you book your first appointment you can be confident that Elaine will support you in identifying the deep rooted causes of stress in your life and how to overcome them with the simple yet powerful treatments and relaxation techniques that will enable you to manage these stresses more easily so that you can take greater control of your own well-being and health. As you develop the tools and skills to relax and take real care of yourself you will notice how quickly your personal and professional relationships can improve, and how much easier, happier and harmonious your life can be. Find out more or book session with Elaine today by calling 07890145194, email elaine@elementalchanges.co.uk or head over to www.elementalchanges.co.uk to start your journey to Inner Calm. Individual Services:
Reiki Healing and Training
Tarot Readings and Training
Meditation
Inner Calm coaching
Past Life Regression
Workshops, Retreats and Training
Contact Elemental Changes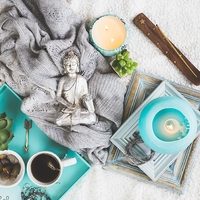 9A

Station Road

,

Whitley Bay

,

Tyne and Wear

NE26 2QY

.
About Elemental Changes
Welcome to Elemental Changes, the spiritual home of Relaxation and Inner Calm in the North East. Life can be overwhelming these days, especially if you're managing the symptoms of stress and anxiety along with juggling the demands of work and family life. Many people today feel like they are standing on shifting sands, balancing so many roles and responsibilities, and are living in fear that things will come crashing down around them if they can't keep up with the demands being placed on them. The good news is that Inner Calm can help you to find the space and time to relax, be kind to yourself and easily create practical solutions to change your life and overcome the issues that are troubling you the most – whatever they are. Practical and spiritual guidance is offered alongside deep holistic healing to restore your inner peace, resilience and well-being. What is Inner Calm? Inner Calm at Elemental Changes is a unique blend of therapeutic and healing modalities as well as intuitive mentoring that supports women at a crossroads in life to move from being stuck in a place of overwhelm, to feeling confident, in control and clear about what you want and what you need to do to get it. By giving you the tools you need to decide which path to take you can forgive and release the past, live joyfully in the present and make healthy decisions that will create a bright future for you. Whether you want to work on your career, your confidence, your health your relationships or your direction in life, when you achieve Inner Calm you will notice increased: Confidence in yourself, clarity around your life choices and direction and creative approaches to problem solving; Acceptance of yourself and those around you. Know who you are and feel comfortable with the choices that have brought you to where you are today. Feel able to speak your truth and shine your light; Liberation from fear based living and decision making. Learn to experience deep, unconditional love for yourself and the universe. We are all one and you deserve freedom from the limiting beliefs that get in the way of you living the life you dream of; Manifestation of your goals and dreams. Bring magic into your life by learning the secrets of the Law of Attraction and how to mindfully make your dreams a reality. Why work with Elaine? With Elaine as your Inner Calm coach you will quickly:
Make real, lasting and positive choices that will change your life for good
Get back in the driving seat and back in control of your life
Simplify the issues that have been holding you back
Feel more confident and comfortable in yourself
Focus on what's important to you
See the world through fresh eyes and get new perspectives on your life
Get new insight and clarity
Create a realistic and achievable plan to manifest what you want
Specialising in work-life balance, overcoming overwhelm, changes of direction and finding you Inner Calm, Elaine helps her clients to feel confident, in control, clear about what they want and how to get there and ultimately a lot more comfortable in themselves. How Can I FInd My Inner Calm? Reiki, Tarot, Meditation and Hypnotherapeutic NLP coaching plus the cultivation of a regular holistic self-care routine and looking after your inner health all enable you to be better equipped to deal with the ups and downs of everyday life. Every session at Elemental Changes is designed to meet your specific needs. From the moment you book your first appointment you can be confident that Elaine will support you in identifying the deep rooted causes of stress in your life and how to overcome them with the simple yet powerful treatments and relaxation techniques that will enable you to manage these stresses more easily so that you can take greater control of your own well-being and health. As you develop the tools and skills to relax and take real care of yourself you will notice how quickly your personal and professional relationships can improve, and how much easier, happier and harmonious your life can be. Find out more or book session with Elaine today by calling 07890145194, email elaine@elementalchanges.co.uk or head over to www.elementalchanges.co.uk to start your journey to Inner Calm. Individual Services:
Reiki Healing and Training
Tarot Readings and Training
Meditation
Inner Calm coaching
Past Life Regression
Workshops, Retreats and Training
Articles by elementalchanges
If you like Elemental Changes please share on your social media
Contact Elemental Changes