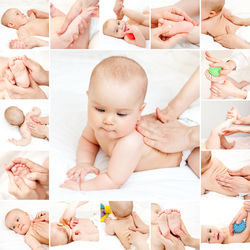 Baby Massage – Totton Health & Leisure
156 Water Ln, Totton, Southampton SO40 3GX, UK.
About Baby Massage – Totton Health & Leisure
Baby massage
Practitioners: Jackie Halford
classes available
Totton Health & Lesuire next course starts Friday 16th June 1.30pm
The Fenwick2 lyndhurst Friday 26th May 10am
Cost: Course of 5 group sessions: £50 Individual sessions if preferred (please contact us for prices)
Baby massage is one of the most wonderful bonding experiences between mother and child. Luxuriate in the benefits of the massage, both physical and emotional, both for your baby and for you. Studies from around the world show that infant massage reduces postnatal depression and improves mother and baby relationships, plus massage can relieve numerous baby discomforts such as colic.
The classes are taught in a relaxed and welcoming environment. You will be shown how to adapt the massage strokes to your baby's individual needs – and you will learn so much more than a massage routine!
Benefits for your baby:
helps your child feel securely attached
helps your child feel more loved, valued and respected
reduces crying and emotional stress
increases levels of relaxation and sleep
encourages development of body awareness and co-ordination
relief from wind, colic, constipation and teething discomfort
Benefits for you
feel closer to your baby
gain a deeper understanding of your baby's behaviour, crying and body language
enjoy an enjoyable opportunity to spend a one-to-one with your baby
feel the relaxing effects of giving your baby a massage
increase your confidence in your ability to care for and nurture your baby
learn a lifelong parenting skill
meet other mums with young babies
Both our practitioners are trained by the world-renowned International Association of Baby Massage (IAIM), which is the largest, longest-standing and only association dedicated solely to baby massage in the world.