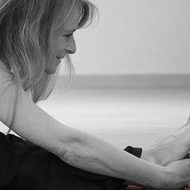 19 Trefoil Rd, London SW18 2EG, UK.
About Private Yoga tuition
Erika teaches private and corporate yoga in South West and Central London. After a long career in the corporate world, Erika made a career change, qualifying as an RYT500 Yoga instructor in 2010. She experienced the pressures of that world first hand, juggling the corporate world with being a mother of two. Yoga became a sanctuary of peace and healing during those stressful times and helped her cope much better with external pressures. She believes that we all have the potential to transform both ourselves and our lives, and consequently our relationship with those aorund us. Erika thrives from seeing students progress, grow and flourish from the benefits they reap from their yoga practice.
Erika teaches vinyasa flow, gentle flow, meditation, pranayama and restorative yoga. She is also very keen to teach students how to cultivate their self-practice and runs workshops on this theme.