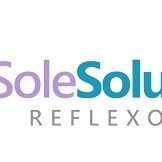 Sole Solutions Complementary Therapies
7 Gladys Grove, Colwyn Bay LL29 7UB, UK.
About Sole Solutions Complementary Therapies
I originally started Sole Solutions Complementary Therapies as a reflexology practice. Many of my clients were delighted with the treatments I gave them, but I felt that I wasn't fully able to help all of them with more deep seated emotional, mental, spiritual or physical concerns. For this reason I have trained myself in many disciplines and I can now offer a range of therapies. This means that whatever is troubling you, even if you can't pin it down yourself, can usually be shifted by using a range of techniques. I can use skills from reflexology, massage therapy, and Facial and Head treatments to aid your physical relaxation and stress removal. I can help you learn to meditate to relieve stress and I can use Chios Energy Healing or Shamanistic techniques to help you resolve your spiritual or emotional problems – many of which manifest as physical ailments. Whether you need an afternoon of stress relieving reflexology, a course of treatments to help reduce migraines or muscle pain, or some sessions to help you get your zest for life back I can use my range of skills to get you back to full health and well-being.