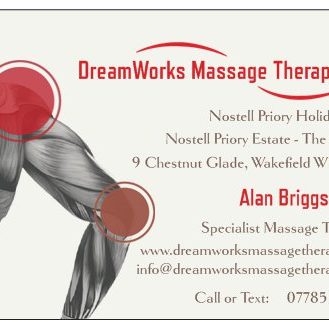 DreamWorks Massage Therapy
Nostell Priory Holiday Park Nostell Priory Estate 9 Chestnut Glade, Wakefield WF4 1QE, UK.
About DreamWorks Massage Therapy
Welcome to DreamWorks Massage Therapy
Nestled within the grounds of the Nostell Priory Holiday Park and the Nostell Priory Estate. DreamWorks like to bring you the personal touch and provide you with an overall body experiance that will relax your senses.
Lay back, relax and free your mind of the stresses of the day.
We bring you massage therapy in comfortable surroundings. There will be a one to one consultation on your first appointment to understand what your full requirements will be.
Full or part body massage therapy is available and can be tailored to your specification. Hopi Ear Candling treatment is also available.
You will have full access to tolet and shower facilities and there is ample off road parking for on site appointments.
We do offer a full mobile service within a 80 mile radius of salon address in Wakefield, covering North, South & West Yorkshire and beyond. So we can visit you in your home, business or specifed venue.
Treatments are open to both Male & Female clients and there is no age restriction on having a treatment wether you are aged 8 to 80
Workplace & Event Massage are also available, Please contact me for further information