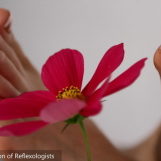 Christine Donald REFLEXOLOGY
262 Thistle Grove, Welwyn Garden City AL7 4AL, UK.
About Christine Donald REFLEXOLOGY
I am an experienced Reflexologist, insured and am a member of the Association of Reflexologists. I work on the Reflexes on the feet and also on the hands. If you have not had Reflexology before, you will find it really relaxes you, clears your mind, helps your cope with stress, relieves muscle stiffness and tension, just in the way a massage does, but it goes far deeper. It's great for a treat or for regular health maintenance. There is plenty of research to find on the web from around the world and plenty of information and videos on the Association of Reflexologists Website.
I can also include a leg and possibly and arm massage with the Reflexology, and I also do Hand Reflexology, and teach you self help methods.  I use a Reclining Reflexology Chair. or foot stool for visits. You are not rushed in and out like in some Large Clinics.
You can visit me in my relaxing Garden Room or Mobile visits are available during the day in the local area. for the disabled.  I am on the East Side of Welwyn Garden City, away from the Town Centre and there is free parking in my road. Reflexology is suitable for the very old and the very young and during pregnancy when given by a Qualified Reflexologist. You are welcome to contact me with an enquiry.
I have a special offer for May and June 2016 you can have one  Reflexology Session for only £20.00 and this includes a consultaition so is usually longer than 1 hr. There is a small extra charge for a visit. I will update with Special offers so keep checking!
Please do contact me for more information, if you leave a message, I will get back to you as soon as I can.