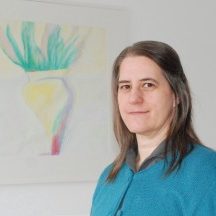 About Joy Rendell
Managing and Mastering Pain
Our therapist meets you in your home to assess you and suggest optional solutions that would enable you to be as independent as realistically possible. We empower you to move on with life – with what you want to do.
You know about pain and long-term discomfort. I know about pain. For over 30 years in general and orthopaedic NHS hospitals I have worked with people who have had traumatic injuries and amputations.
Perhaps you have seen many health professionals and tried many solutions. You may even have despaired of ever finding relief. I have shared your frustration. You may have gone through the emergency and acute moments, done all the rehabilitation, yet there is still nagging pain that won't let you go.
While simple scar care and postural management is beneficial, I could see it wasn't enough to give everyone effective relief. I was determined to explore some techniques that could really help. I had the opportunity to discover about and develop skills in neuroplasticity (changes to the neural pathways of the brain following injury and as a result of new learning). I trained in GMI (Graded Motor Imagery) and Emotional Freedom Technique which are both new and exciting ways to manage pain. I believe I have found some effective methods to confront long-term pain.
If you are still living with your pain, perhaps we should get together.