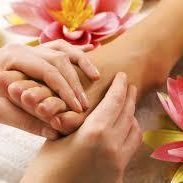 Pampered Soul Holistic Treatments
Blackwell grange hotel, grange road, darlington .
About Pampered Soul Holistic Treatments
Reflexology Treatments:
Reflexology is a complementary therapy that involves the application of pressure to specific points, known as reflexes, on the feet and hands to encourage the body to heal from within. The therapy is based on the principle that the feet and hands contain 'mini-maps' of the whole body and that by applying pressure using the fingers or thumbs a reflexologist can have a positive effect on the corresponding parts of the body. Can be used for fertility clients.