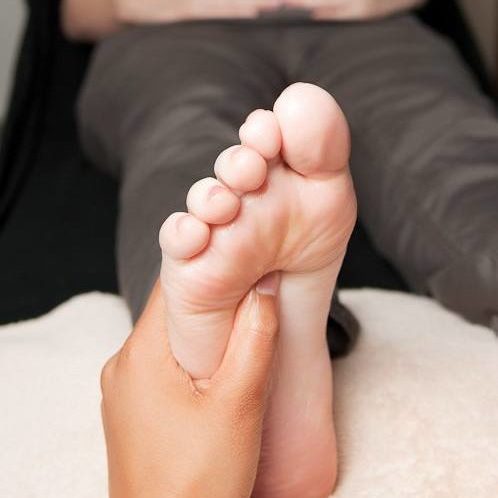 1 Iddenshall Hall Cottages, Clotton, Tarporley CW6 0EG, UK.
About Reproductive Reflexology
Reproductive Reflexology can be used as a stand-alone treatment to enhance your natural fertility or with conventional treatments, such as Clomid, with fully medicated cycles such as IUI, IVF, ICSI, as well as with donor eggs. 
Reproductive Reflexology also has its roots in classic theory but focuses on the following: 
•assessment of the reproductive reflexes (ovaries, tubes, womb, testes etc)
•the behaviour and monitoring of the menstrual cycle
•the body's natural rhythm or a drug protocol
•takes into account known conditions such as PCOS, Endometriosis, cycle irregularities and poor quality sperm
•seeks to encourage the body to regain hormonal balance, improving the quality and health of the cycle and the internal environment.
Also, and very importantly, it is extremely adaptive, which is where it differs from a classic reflexology treatment. Each treatment is adjusted to fit the timing of your cycle, ideally pre and post ovulation, for both natural or assisted, and any accompanying condition or drug protocol.
Varying subtle techniques are used to accomplish this, making reproductive reflexology both specific and effective. And it's not just for the women. Reproductive Reflexology has been created with the male reproductive cycle in mind too, seeking to improve internal health and well-being, and counteracting the negative effects that stress can cause on the quality and health of sperm. At each and every treatment we review the health and behaviour of your cycle and adjust your treatment plan accordingly, which makes it very bespoke.
Members of the Association of Reproductive Reflexologists are specially trained to work alongside medicated cycles using treatment protocol that we believe works to enhance the medications' efficacy.
With over 20 years experience Andrea is a board member for the Association of Reproductive Reflexologists. The Association promotes Reproductive Reflexology to support fertility, infertility and assisted cycles.
Andrea also specialises in Reflexology for Maternity, Pregnancy & Labour and Reflexology & Aromatherapy for Palliative Care.
Areas covered : Chester, Tarporley, Cheshire, Wirral and North Wales
www.andreabeedles.com Tel: 07795 522288