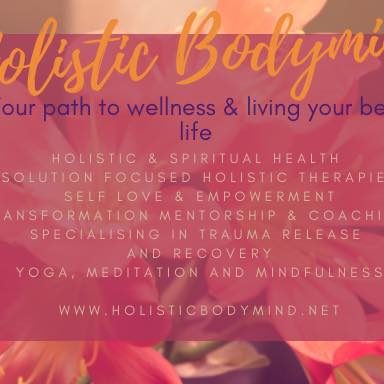 1 Lansdown Pl, Emersons Green, Bristol BS16 7AD, UK.
About Holistic Bodymind
Holistic Bodymind
Your Path to Wellness
Holistic Therapies in Bristol and Bath
A natural therapy that helps the body to self heal.
My name is Donna and I am a professionally qualified and experienced Holistic Health Practitioner of five years.
I offer one to one private Holistic Therapies and well being services in Bristol and Bath.
Through my qualifications, expertise, life experience, self development and living a self invested holistic lifestyle I am able to educate and offer, honest and trusted support with instant benefits through a range of practical and theoretical techniques with lasting results.
I am a fully insured FHT member and my focus is set with the intention of improving YOUR health and well being of which my services are tailored holistically, whatever your needs are, we will work together to heal your body naturally through safe and effective methods. ​
I invite you to explore my bespoke holistic healthcare path to wellness.
We shall work together in achieving ultimate balance and optimum health to your mind and body, through approaches that work for you.
The human body is made up of the energetic, physical and spiritual being. All three must be in working order, so that a free flow of energy is achieved.
Through my unique restorative practices, you will experience the essential stages of the healing process from:
Release
Re-balance
Re-alignment
Re energize
Receive
With my intention of empowering you to achieve essential embodiment, teaching you to be in tune with yourself and understanding and establishing your relationship with who you truly are, Holistic Bodymind works alongside you whilst assisting you in your goals, through your holistic healing journey to self discovery you will naturally be on a happier, healthier and fulfilling path.